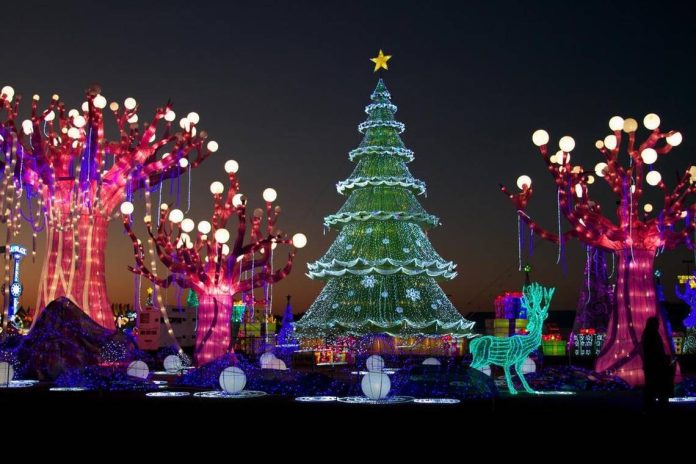 It might will be little colder this winter, but there's still tons of fun activities waiting for you some of Dallas Christmas lights displays.
The magic of the season is truly embodied in the millions of twinkling lights all around the city.
1. Vitruvian Lights in Addison
The walking trail that surrounds a small, man-made lake in this corner of Addison has lights pretty much everywhere you look inVitruvian Park. Every tree is filled with bright, luminescent bulbs that turn your walk in the park into a holiday wonderland minus the below freezing temperatures and blinding snowstorm. It's like walking through a brightly lit forest where the flora and fauna are made out of neon lights.
2. Christmas in the Square in Frisco
This neighborhood light display is one of the most visited North Texas attractions at Christmas time. All of the buildings along Frisco's downtown square are covered in holiday lights that are synced to music that's broadcast on a local radio frequency so you can watch the lights dance to your favorite holiday tunes as you drive past them. When you're done marveling at the lights, you can go for a calm horse carriage ride or take a run around an ice rink.
3. Prairie Lights in Grand Prairie
What happens when a whole community of volunteers come together to make sure that everyone who visits their little corner of the world has a happy holiday? It looks something like this drive-thru holiday scene. The Prairie Lights has over 4 million holiday lights covering trees and displays of familiar holiday scenes in one of the most beautiful 45-minute drives you can take in Dallas this time of year. Grand Prairie's holiday celebration also offers an indoor laser show, a lighted walking tour and a chance to get your photo taken with Santa Claus.
4. Gift of Lights at Texas Motor Speedway
Usually, the sounds of roaring engines and screaming fans can be heard from the famous Texas Motor Speedway in Fort Worth. However, around Christmastime, it's a little quieter but it's still just as bright thanks to the annual Gift of Lights display. Visitors can drive through one of the area's largest holiday light displays and then stop in and visit with Santa at Santa's Village.
5. The 12 Days of Christmas at the Dallas Arboretum
The Dallas Arboretum's annual holiday event doesn't just happen at night. During the day, visitors can tour the grounds and meet famous Christmas characters or listen to live performances of beloved Christmas carols. Then at night, the lights go up and illuminate visitors' path along a three-quarter-mile walk through several beautiful holiday displays.
6. Tour of Lights in Farmers Branch
Maybe you don't feel like taking a walk when the temperature just dropped 30 degrees in the span of a Saturday afternoon. Then head over to Farmers Branch where you can enjoy the annual Tour of Lights from the warm comfort of your own car. This driving tour features some of the biggest animated light displays in all of DFW that are tuned to festive holiday music that you can play on your car's radio.
It might seem like a good idea to drive your self by that the many fantastic Christmas lights around, but here at our Dallas is truly we have a better idea We are always ready to provide you our excellent service and Luxuriously comfortable vehicles.
We'll love for you to experience the magic Christmas with a wonderful Limo ride, so don't hesitate to reach out to us as soon as possible.