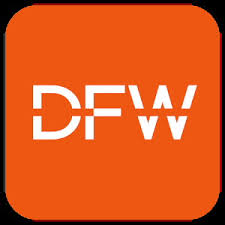 DFW International airport  is the primary international airport serving the Dallas- Fort worth area in the United state.
DFW International airport halfway located between the major cities  is the largest hub for American airlines, the dfw airport is surrounded by different cities Grapevines,Irving, Euless, Coppell, Dallas county and Tarrant county.
DFW is the third busiest airport in the world by aircraft and the eleventh busiest airport in the world by passenger traffic in 2016. It is the busiest airport in the state of Texas by both passenger and by aircraft takeoffs and landings.
As of March 2017 , DFW Airport has service to 217 destinations. including 56 International  and 161 domestic destinations within the US.
DFW Airport has five terminals and 165 gates, the terminals at DFW are semicircular except for the new terminal D which is square U and built around the airport's.
DFW's terminals are designed to minimize the distance  between a passenger's car and airplane and to reduce traffic around terminals.
DFW airport is undergoing a $2.7 billion terminal renewal and improvement program on terminal A.B,C and E work on the project began following the conclusion of super bowl XLV in February 2011.
DFW airport put lot of effort to provide the best and relaxing transportation  for the passenger. DFW airport limousine has major spots on all the terminal , the passengers request transportation from all the different limo company.
DFW airport limousine  is one of the major transportation at DFW airport we provide all the transfer and transportation from and to DFW.
DFW Airport Limousine has spot for parking everywhere at the airport , also we provide meet and greet from inside the airport just let us know if you need  help with the bags we will meet you from the baggage claim.
DFW Airport limousine will love to take care of your transfer from the airport so please call us (214)713-5120 or visit our website:www.dallasairportlimousineservice.com