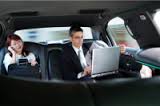 When and Where is your next business trip to Dallas,TX? if your next business trip to Dallas or North Dallas, there are many reasons to hire Dallas Airport Limousine Service for your transportation needs.
Wherever you want to go  we can take you with in Dallas area. our professional chauffeur will be there ready and waiting for you, we offer many other benefits as well. Our company is used to handle all the corporate company for many years, if you want to select Dallas airport limousine service you will never be disappointed.
Dallas Airport Limousine Service offer suv's and  sedan cars for you transfer needs as well. the corporate company prefer to ride on suv's give them more comfort and relaxing for their client, we do send our suv's to the company because we do understand  how relaxing is very important.
I need to promise corporate traveler our prices are very competitive with a cab we offer lot of discount for corporate traveler  we wont break your wallet give us call and see how much you will save your time and your money because time is money.
Never late to call us on the same time of you traveling day pick up your phone call us(214)713-5120 Dallas airport limousine service will be at the airport to pick you up on style and the professional driver will be waiting for you before you knew it.
Dallas Airport limousine service fleet is compromised of only the highest quality and the latest model, we want to make sure you will enjoy you ride every trip, we do take the safety of our riders very seriously every week all our fleet we send them to the dealership to do 14 point check , we clean our fleet daily almost each trip we make sure the car smells great and clean.